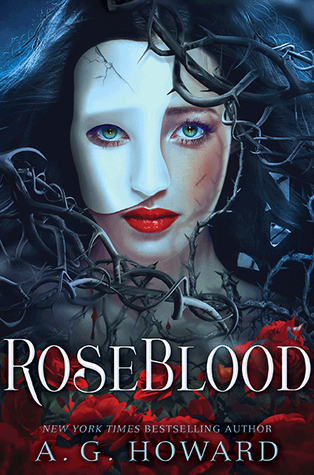 In this modern day spin on Leroux's gothic tale of unrequited love turned to madness, seventeen-year-old Rune Germain has a mysterious affliction linked to her operatic talent, and a horrifying mistake she's trying to hide. Hoping creative direction will help her, Rune's mother sends her to a French arts conservatory for her senior year, located in an opera house rumored to have ties to The Phantom of the Opera.
At RoseBlood, Rune secretly befriends the masked Thorn—an elusive violinist who not only guides her musical transformation through dreams that seem more real than reality itself, but somehow knows who she is behind her own masks. As the two discover an otherworldly connection and a soul-deep romance blossoms, Thorn's dark agenda comes to light and he's forced to make a deadly choice: lead Rune to her destruction, or face the wrath of the phantom who has haunted the opera house for a century, and is the only father he's ever known.
My Thoughts
Phantom of the Opera is one of my favourite Broadway plays and when I discovered that someone had done a retelling I was excited.
Rune is the modern day Christine. Her voice is like an angel and she fights her mom ont he decision to send her to Roseblood Academy is the typical teenager way, bad arguments. She makes enemies on her first day and the mystery of why she is compelled to sing intrigued me a lot. I wanted to know why she had to and why it caused her pain.
Thorn is odd. He struggles between pleasing his father figure, Erik, and chasing after the other half of his soul. He wants to please both of them but knows he can't. His character was intriguing and creepy. He stalks Rune around the academy and creeps her out enough that in the beginning I was wondering if he actually loved her or was going to kidnap her like the Phantom did to Christine.
The parallels to Phantom of the Opera were there, you didn't have to try hard to see them in the story. The author clearly did her research in getting the characters to fit into the Phantom of the Opera story but also found a way to fit them into history, weaving the tales together so it would seem more real.
I would give this book a 4/5, the writing was beautiful and the characters were believable in their separate roles but when they came together some moments happened to fast.  I would recommend this book to anyone who like romance, Broadway, or Phantom of the Opera.